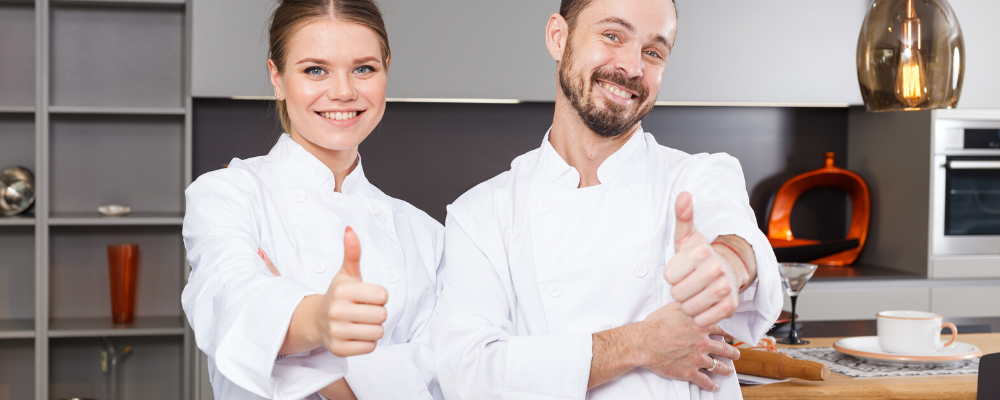 A great chef is multi-talented: creative, a team player, a decisive leader, with attention to detail, and a commitment to quality.

Shouldn't your chef's apparel be multi-talented too?

Apron and Smocks' chef uniforms can keep your chef comfortable near a hot oven for 12 hours straight, can withstand the assault of gravy drips, grease splatters, flour smatterings, and chocolate drizzles, can maintain a professional appearance for unexpected visits by the spy restaurant reviewers, and stand up to being thrown in the machine washer and dryer numerous times—yet still be clean, pressed and ready for the next morning shift.  How is this possible? Key ingredients:
Durable washable fabric that's 65 percent poly and 35 percent cotton,
Unfading colors,
Thread count that holds colors and maintains fabric strength,
Sizing from xsmall to 6X
Style options to suit anyone in your kitchen,
Great chef uniforms from Aprons and Smocks are available in many sizing and design options but they all have the quality ingredients to last. Our fabric has a higher weight and higher thread count per inch than many of our competitors. That's the key ingredient that ensures a professional looking uniform, long lasting colors and durability. We offer one of the largest selections of high quality chef wear, tailored for men, women, or unisex, and our chef wear can be personalized with embroidery or screen printing. Check out the many selections we offer for chef wear, including:
Aprons and Smocks welcome bulk or individual orders. Contact us for more details.