Standard Processing Time
Our customer care will review and process your order within the next 24 hours. Then your order will be sent to the shipping department for picking and packing. All in-stock items (without personalization) will ship within 1-2 business days. An email confirmation with tracking will be sent once your order has shipped. Visit the My Account page for the most up-to-date status on your order.
Due to COVID-19, we cannot guarantee how long product customization may take. We will do our best to complete your order in a timely manner. At this time, we are still accepting embroidery orders. You can anticipate that your order may take 2-4 weeks to complete.
For expedited ordres, please keep in mind that our customer care reviews and processes the order prior to it being sent to shipping. Expedited orders normally ship within 24 hours (excluding weekend and holidays).
Changes / Cancellations
Cancellation and order change requests are subject to an order's shipping status. If the order has not shipped, customer care will make every effort to process the request. If the order has shipped or been sent to customization department, customer care can no longer cancel or change the order and the purchaser will be required to follow the return process.
CUSTOM PRODUCTS, EMBROIDERED PRODUCTS AND SCREEN PRINT PRODUCTS CANNOT BE RETURNED
Shipping Rates
Shipping rates are provided by our carrier-UPS. UPS does not deliver to P.O. Box's, we need a street address. Your order will ship to you from Atlanta, GA. Please see map below for estimated delivery times.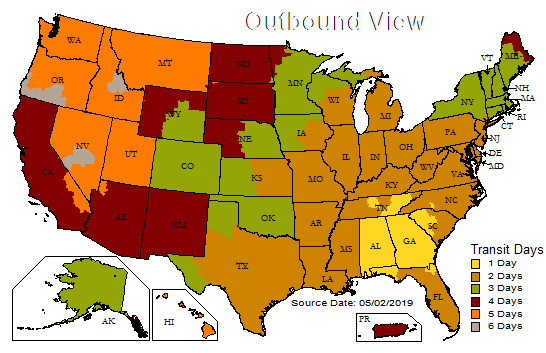 International Orders
Regarding international shipments, Aprons & Smocks does not handle the duties or brokerage fees on non-domestic shipments. International orders may incur additional charges, please do not confuse these with the shipping charges from Aprons & Smocks. These import duties, taxes or other charges are assessed by the customs office and are based on the listed value of the package. Duties and/or brokerage fees (or the like) are the responsibility of the customer and collected by the delivering shipping company.
Returned Orders
In the event a package is returned due to incorrect shipping information or the inability for mail service to deliver, customer care will contact you. Customer will be responsible for paying a shipping fee to have the package sent again. If the customer decides not to pay the shipping fee, a 50% restocking fee will be applied with the remaining balance refunded to the customer.
Limited Liability
Aprons & Smocks shall not be liable for any delay in transit. Delivery dates are best estimates only. Aprons & Smocks is not responsible for negligent acts by delivery service, including lost, stolen or damaged parcels.