SHIPPING POLICY
Aprons & Smocks shipping methods allow for shipments to the United States (including and APO/FPO addresses) and Canada.  We do not ship to PO boxes. Please contact us by chat or email.
If the inventory is available, MOST orders ship the same business day if the order is received by 12 pm EST. All in-stock orders leave our warehouse within one business day from the date the order has been accepted and confirmed. All delivery times are based on working days and do not include weekends or holidays. All orders placed on weekends and holidays will ship the following business day.
CUSTOM PRODUCTS, EMBROIDERED PRODUCTS, AND SCREEN PRINT PRODUCTS CANNOT BE RETURNED
Multiple Shipments
In order to deliver your order as quickly as possible, Aprons  & Smocks may ship items in multiple shipments. This will not increase your shipping charges.
Partial Shipments
Products from the same order may ship at different times based on item availability. When this occurs, the status of your order may be labeled 'Partial Backorder.' Partial shipment of an order is at Aprons & Smocks' discretion and will not increase your shipping charges.
Changes / Cancellations
Cancellation and order change requests are subject to an order's shipping status. If the order has not shipped, customer care will make every effort to process the request. If the order has shipped or been sent to the customization department, customer care can no longer cancel or change the order and the purchaser will be required to follow the return process.
Tracking Your Order
You can track your shipment by visiting https://www.apronsandsmocks.com/my-account/, we will send you a shipping confirmation email which will include a tracking number that enables you to track the progress of the packages from our warehouse to the address you specified. Please note that it may take up to 24 hours before your order tracking information is available from the carrier's tracking system. That means even though your package has already shipped to you from our warehouse, the carrier may not be able to provide any information about your package for up to 24 hours.
Damaged Shipments
Freight claims for damaged or missing shipments are the responsibility of the customer. Shipping claims are to be filed by the customer with the delivery carrier and any losses incurred are at the customer's expense. If you receive a shipment in damaged condition, you MUST retain all packaging and contents for examination by the carrier. You MUST immediately advise the carrier by phone and in writing and then advise our office immediately so we may assist you with your claim.
Shipping Methods
UPS is the carrier for shipments from ApronsandSmocks.com. Orders will ship from the warehouse in Woodstock, GA.
UPS SurePost -is an economy, residential, ground service. This service combines the consistency and reliability of the UPS Ground network with final delivery typically provided by the U.S. Postal Service. Estimated delivery of 5 to 7 business days for the states within the continental US. Estimated delivery of 7 to 14 days after tendered to the U.S. Postal Service for packages destined for Alaska, Hawaii, Puerto Rico, and US territories. Estimated delivery of 3 to 6 weeks after tendered to the U.S. Postal Service for packages destined for APO/FPO addresses
UPS Ground – Your order ships via UPS Ground within one business day from acceptance and confirmation. Transit time is 1-5 business days. Please refer to the general transit time map below
Rushed Shipping – Available options will be displayed during checkout. Daily cut-off time for rush orders is 12 PM (Eastern Time).

Rush shipping will not be available between January 28-February 20, 2022.

International Shipping – Regarding international shipments, Aprons & Smocks does not handle the duties or brokerage fees on non-domestic shipments. International orders may incur additional charges, please do not confuse these with the shipping charges from Aprons & Smocks. These import duties, taxes or other charges are assessed by the customs office and are based on the listed value of the package. Duties and/or brokerage fees (or the like) are the responsibility of the customer and collected by the delivering shipping company.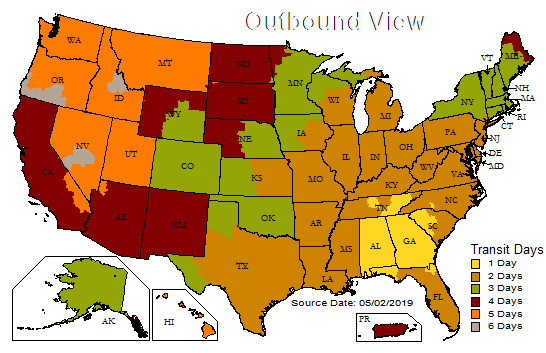 Please note:
The map above is a general representation of transit times for UPS Ground shipments. In limited areas, transit times may differ between shipments to commercial and residential locations.
UPS Ground business days are Monday through Friday (excluding holidays)
Scheduled business days and delivery schedules are revised occasionally due to change in distribution and volume, especially during holiday periods. Service to some remote areas may also require additional delivery days.
Example: A package shipped via UPS Ground on Monday with a transit schedule of 2 business days, (not including the day the package shipped) would be expected for delivery on Wednesday.
Returned Orders
In the event a package is returned due to incorrect shipping information or the inability for mail service to deliver, customer care will contact you. The customer will be responsible for paying a shipping fee to have the package sent again. If the customer decides not to pay the shipping fee, a 50% restocking fee will be applied with the remaining balance refunded to the customer.
Limited Liability
Aprons & Smocks shall not be liable for any delay in transit. Delivery dates are best estimates only. Aprons & Smocks is not responsible for negligent acts by delivery service, including lost, stolen, or damaged parcels.