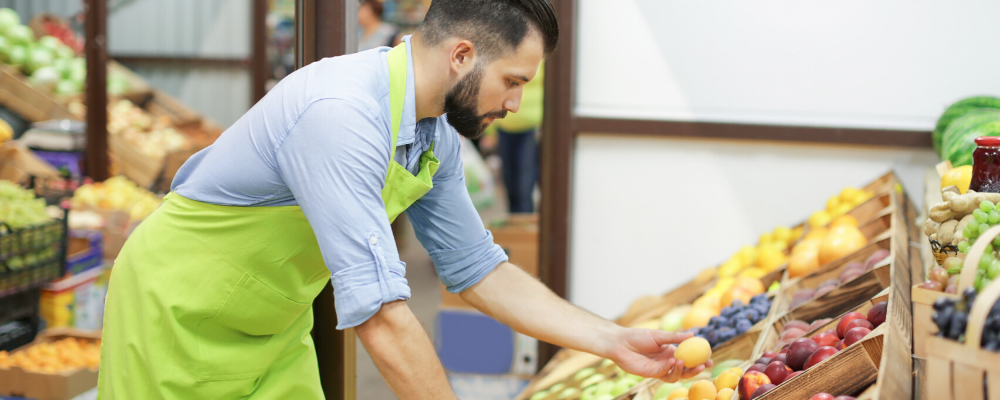 If you work at a grocery store, then you need a supermarket apron or vest that will protect your clothing against the spills, stains, and tears that are commonplace in the workplace. Any grocery store employee knows that top-notch grocery store aprons are invaluable and functional. 

Our aprons feature pouch pockets that allow you to go hands-free. Whether you're bagging, stocking, or otherwise, this is an essential feature. The adjustable side ties ensure that your apron is comfortable and secure, even while you're going through the day-to-day operations.

Our 2 Pocket Long Butcher Apron features a two-piece adjustable neck strap, so you never have to worry about neck strain. Each apron features a ProDura Soil Release finish that makes it near impossible to permanently stain this apron. Additionally, the design allows the fabric to absorb any damage, while your clothes underneath remain safe.

These aprons are made to be durable and typically have some weight to them, as they are made to withstand tearing or ripping. This is common for any stockers, butcher shop workers, or anyone working in the fresh food departments. Whether it's spills from improperly packaged eggs or a tear from a wayward pallet with stock — our supermarket aprons are designed to handle them all!

With a variety of colors, we ensure that you can pick an apron that goes with your store's dress code without having to sacrifice quality. Choose from a range of colors from mango to hunter green and everything in between. Looking for a vest? Check out our 2 Pocket Unisex Vest for a stylish and functional look to help you get started.