Wearing and Washing Cloth Masks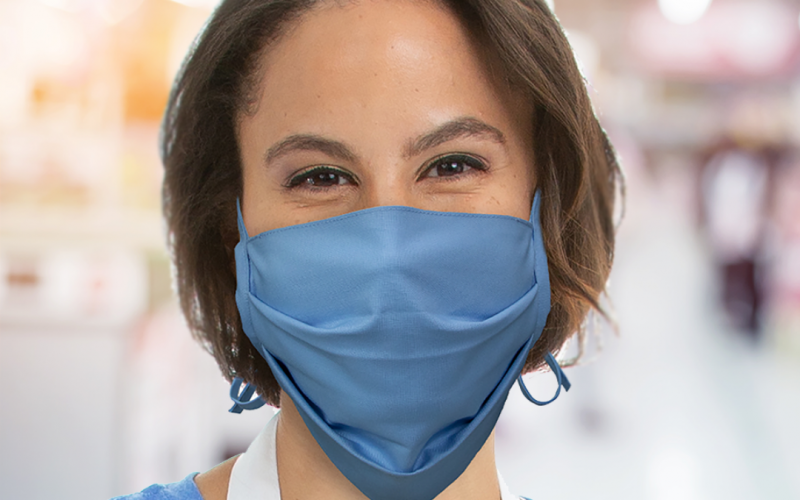 How can you use a cloth mask?
A cloth face mask is useful for situations where social distancing is a challenge. Wearing a cloth mask helps protect others from your germs. When you find yourself in a tight space, or in an area where it's hard to be six-feet apart, a cloth mask can be helpful. Masks also help us from touching our faces and are a visual reminder to use social distancing.
What materials make a good face mask?
When selecting the material for a face mask you'll want to select a fabric that is most effective at filtering out small particles, such as cotton-blend fabrics. When shopping for a mask online there are four features you should look for in the product description:
Multiple layers
Made with tightly woven fabric
Washable
Easy to secure, with ties or ear loops
The mask should fully cover your nose and mouth, wrapping under the chin and extending an inch or more past the ends of your mouth.
How to put on a cloth mask with ties.
Wash your hands with soap and water for at least 20 seconds. Dry your hands with a clean paper towel and throw the paper towel away.
Pick up the mask by the ties and tie the upper ties behind your head with a bow.
Once the mask is in place, use your index finger to place the mask on the bridge of your nose
Tie the lower ties behind your head with a bow.
Make sure the mask is completely secure. Make sure it covers your nose and mouth so that the bottom edge is under your chin.
Wash your hands.
How many times can you wear a mask before washing it? How should you wash a cloth mask?
At the end of the day, take the mask off, loosely knot the ties together, place in a pillowcase or laundry bag to keep the ties with the mask if you have it.
Wash it in the washing machine with hot water and completely dry on medium or high heat. If you do not have access to a washing machine, you can hand-wash it using soap and water.
https://www.apronsandsmocks.com/wp-content/uploads/2020/05/Cotton-Face-Mask.png
1080
1080
Becky Wardlow
https://www.apronsandsmocks.com/wp-content/uploads/2019/02/aprons-smocks_logo-300x92-1-1.png
Becky Wardlow
2020-05-19 10:37:14
2020-05-19 11:13:17
Wearing and Washing Cloth Masks